#4 | A decade under the influence
Seven memories and seven beers from the past ten years
I'm 21, maybe 22, when I host one of those classic country parties like my uncle used to throw. 
Good friends, old and new, around a too-big bonfire. Coolers full of cheap beer sit just out of reach of its light. It isn't Labatt or Molson but instead something plucked from the top shelf of the grocery store, so it feels exotic. 
I quietly spend a few minutes listening to the sound of my friends becoming friends. 
Three or four of us survive until sunup. Jared and I retreat upstairs for a few hours of sleep before stacking the empty remnants of the night into their boxes. The can and bottle redemption room at Quality smells like stale beer. 
I nearly vomit. 
***
We drive to Whole Foods in Tampa during our first month or so in Florida. I still don't know much about beer and the selection is overwhelming. 
One big bottle has a cool cork and cage instead of a cap and it's only six or seven bucks — how could I not? 
I take it home and we watch TV. It goes down fast. I feel loopy. I read the label: 
LA FIN DU MONDE
TRIPLE FERMENTATION
1 PT., 9.4 FL OZ. 
9% alc./vol.
Oops.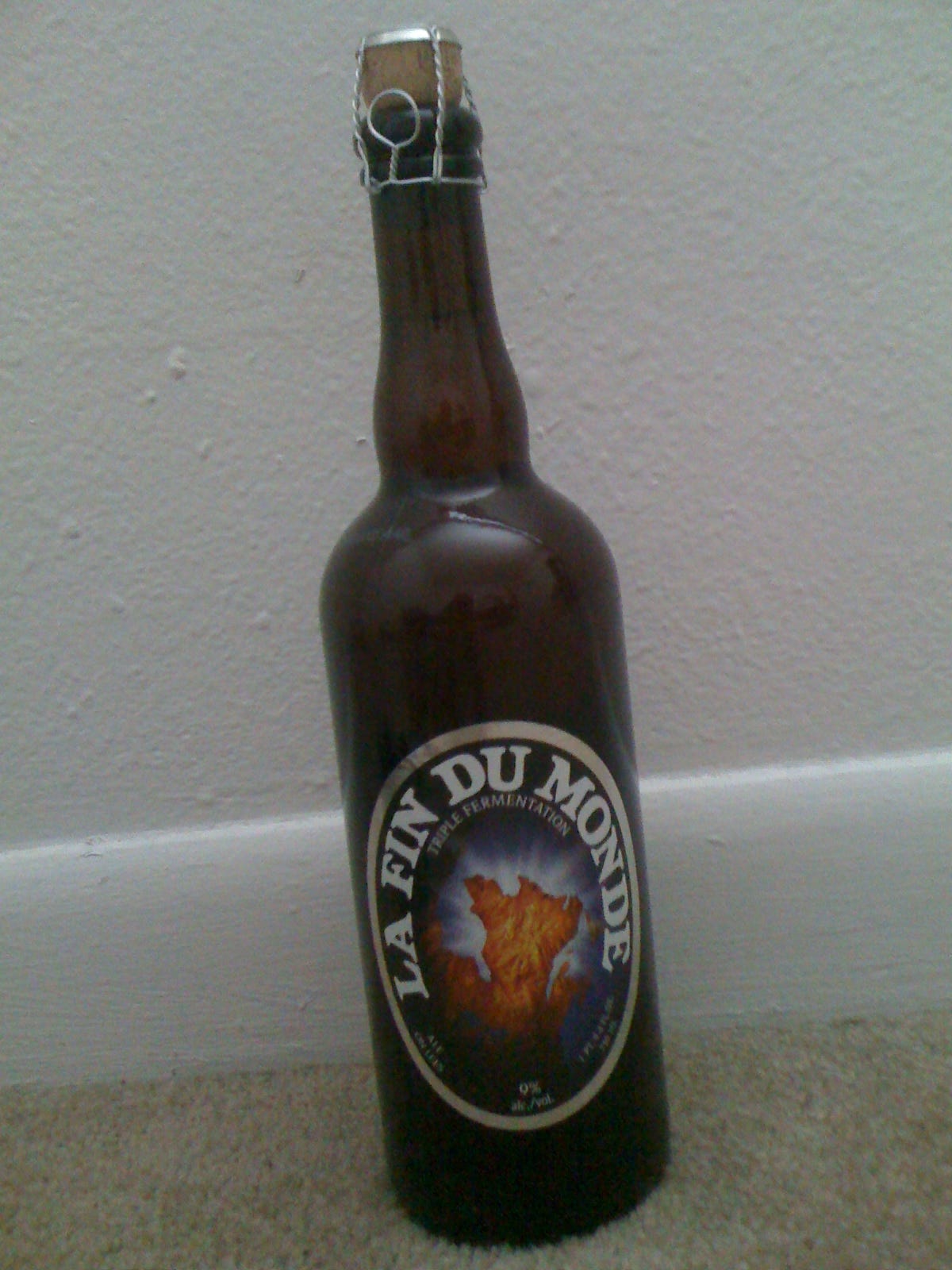 ***
The law changes. Breweries start popping up all over St. Pete. Green Bench, with its warm and sometimes surly bartenders and commitment to a new-old flavor, becomes our No. 1. 
One afternoon, sometime in the late spring before the air gets too sticky, we sit in front of the open windows. I ask Keeley what kind of wine she wants. 
No wine, she says, but Colliding Galaxies — a sour IPA. 
Later, I go home and buy an engagement ring.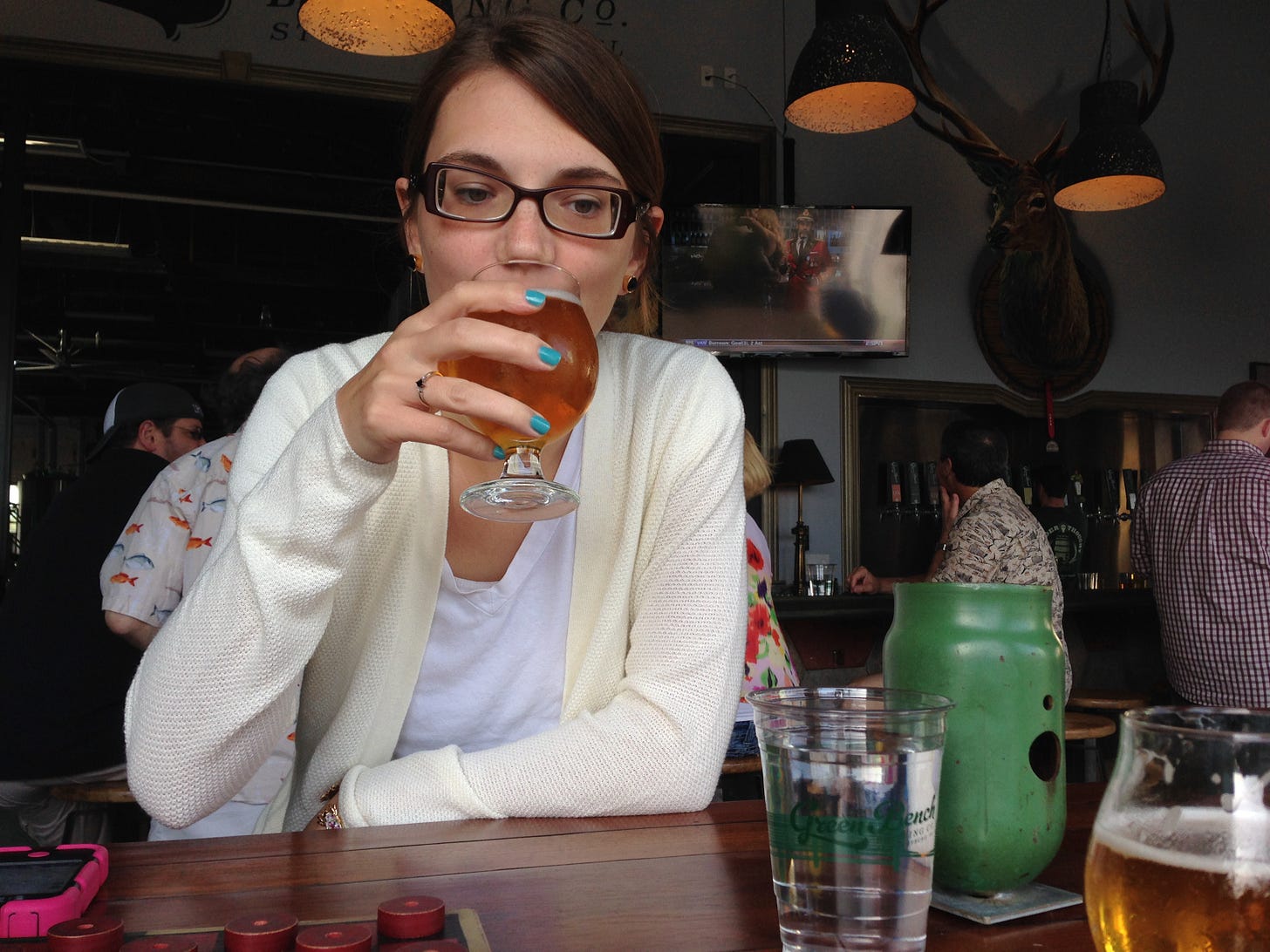 ***
I'm convinced the man at the end of the next table over at Green Bench is Michael Bloomberg. 
He's surrounded by family, they look well-to-do. I interrupt a rockslide of a conversation to make my observation out loud. 
"Nah, can't be." 
Ten minutes later, I've convinced Andrew enough for him to get up and ask. 
The man says he isn't Bloomberg.
Exactly what Bloomberg would say.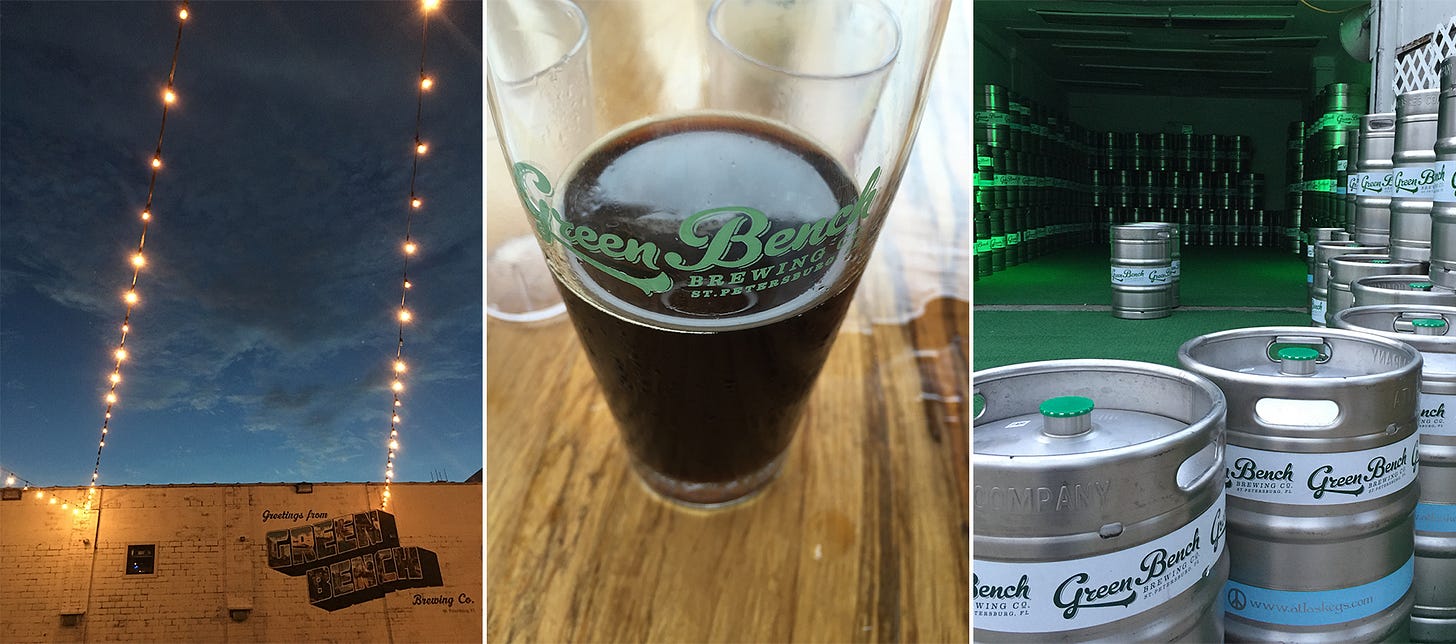 ***
Six breweries into the day, my band of bachelors drags me into the Thirsty Monk basement. I offload my beer choice to Andrew, who knows what he's doing, and sit down and peck at my phone to try to work out where Ben and my brother are. 
The conversations around me close in like a comfortable fog — I lose track of what they're saying but am happy to be in Asheville with these men. I quietly spend a few minutes listening to the sound of my friends becoming friends. 
Something is wrong with our bottle of Blaugies. Andrew debates with the bartender. 
Ben finally finds Asheville but loses his truck.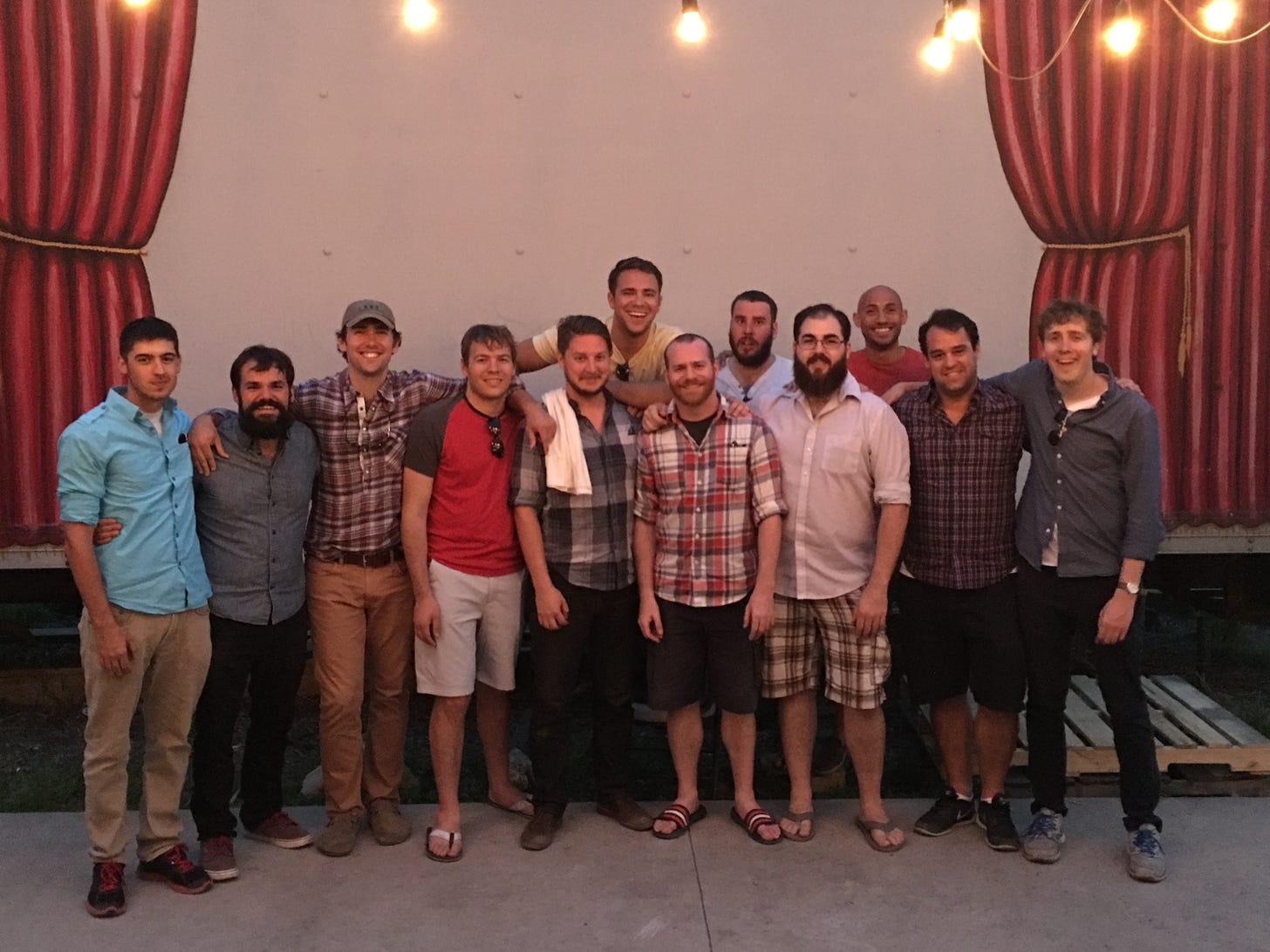 ***
My brother drives down from Jacksonville two days before Christmas.
It hasn't been a good year. Not for either of us. 
We crack a couple bottles of Labatt Blue. Next year already seems better.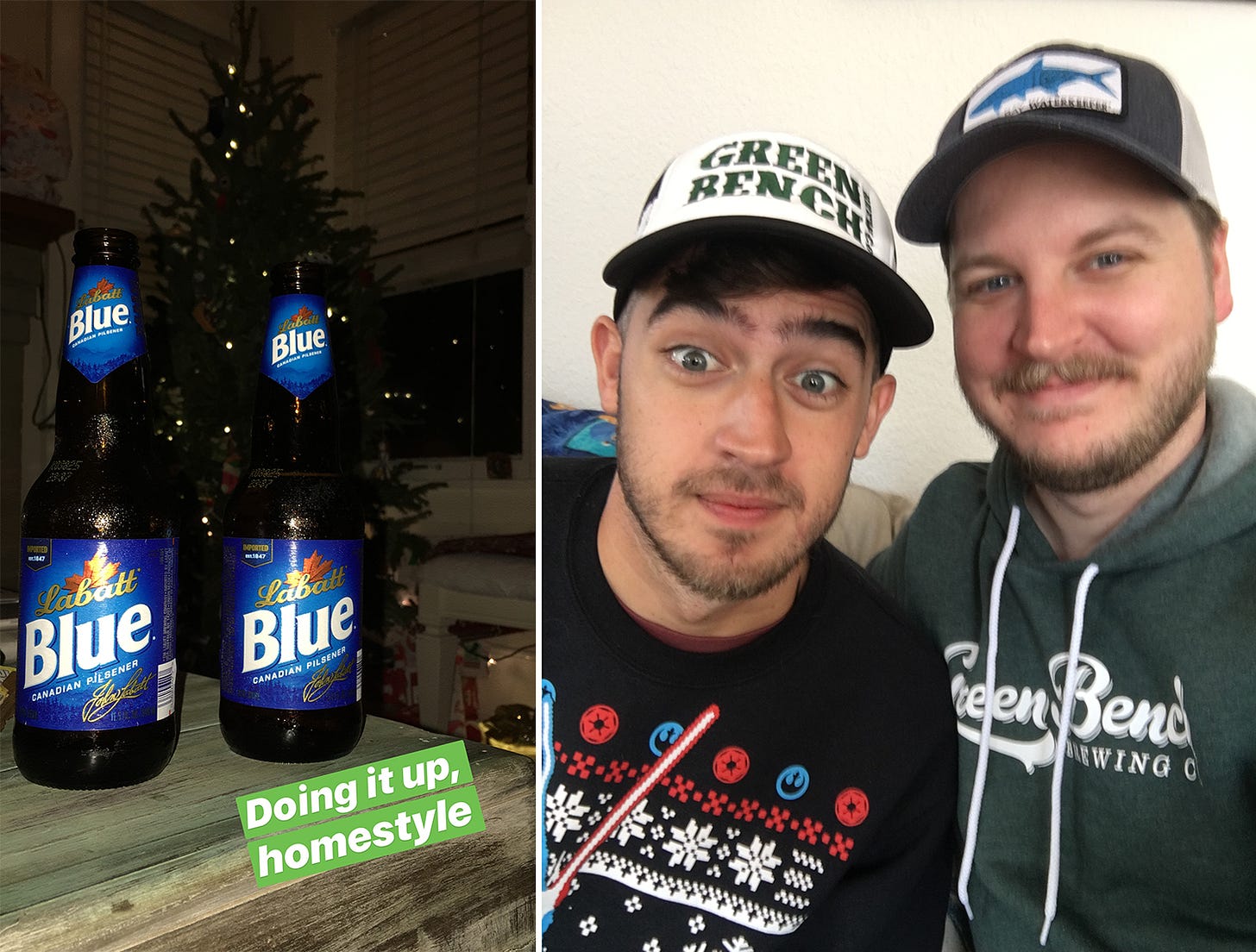 ***
It's mid-July in Niagara County. A place that will always be home. The weather has been consistently warm for the better part of a month, just long enough for everyone to believe that winter is finally over. 
I'm drinking a juicy New England IPA — from Big Ditch or one of those other great Buffalo breweries that suddenly exist — on the front porch of my wife's parents house with Garrett and Scott. We stop talking to watch the international space station zip across the night sky.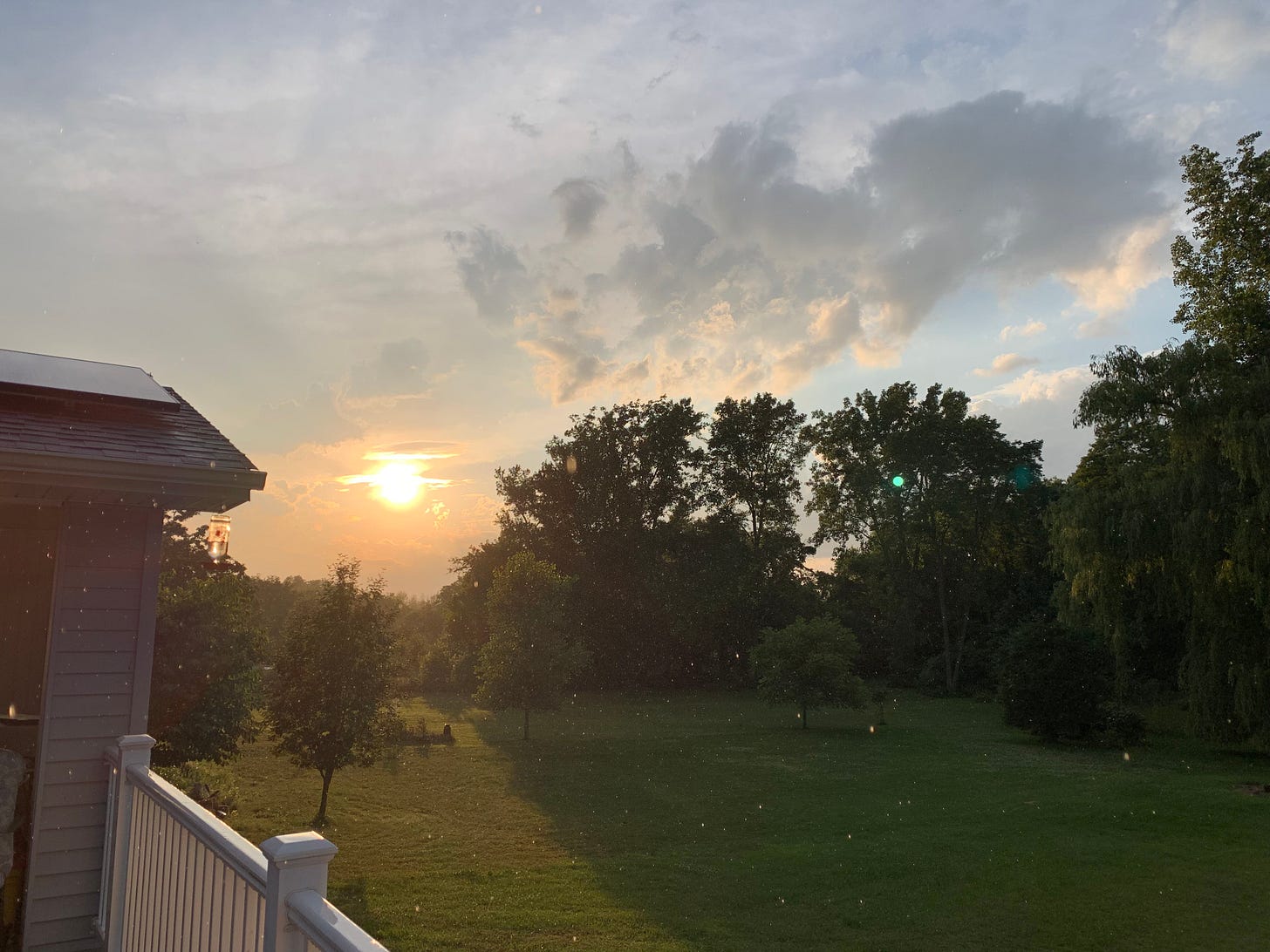 I struggle to believe it can move so fast. 
***
We all have a good "memory" beer. I drink Molson when I'm homesick, Sierra Nevada Pale Ale to reminisce about that insouciant year before grad school and a roasty, toasty porter — paired with Death Cab for Cutie's "Trasatlanticism" — whenever I want to pretend that I'm nineteen and it's October in Western New York. Cliche, I know, but I don't care. What about you?
***
P.S. I don't know how I feel about vignettes. I especially don't know how I feel about writing in present tense. But thanks for bearing with me on this formatic experiment.
***
Want more like this, delivered right to your inbox? Sign up here. If you like bad pictures of good drinks, follow my beer-specific Instagram account.