Discover more from Ren Drinks Beer
Stories about life, love and the pursuit of hoppiness.
#2 | The best beer I've ever had was warm and forbidden by law
Brasserie Thiriez's Etoile du Nord in Paris' Square du Vert-Galant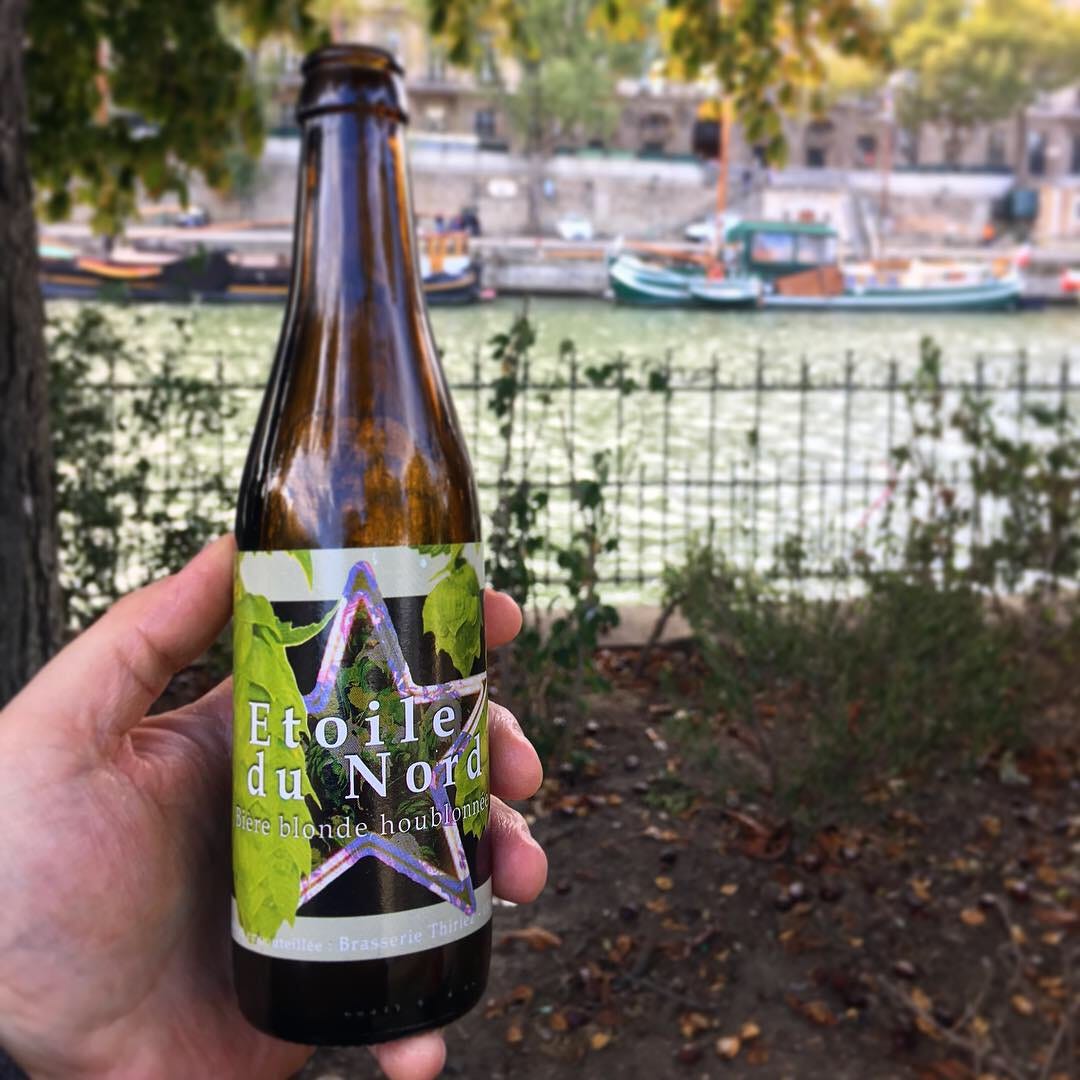 I've sipped thousands of different beers, from masterpieces to grog, in some of the best and worst bars the world has to offer.
Only a handful created pinpricks of memories in my mind.
A Stump Knocker at Stumpknockers. A Budweiser at Busch Gardens. A beer that wasn't a Guinness at Griffin's Bar in Clifden, Ireland, near Galway.
Each memory is less about the quality of the beer and more about the confluence of mishaps that led me to them, the people there with me, or the sense of wonder of being in that place at that time.
The Etoile du Nord from Brasserie Thiriez, a fizzy French saison that I drank in Paris' Square du Vert-Galant, is possibly the sharpest pinprick of all.
Square du Vert-Galant is an acute triangle-shaped park on the western end of Île de la Cité, one of two small islands in the middle of the Seine River that bisects Paris. The park is seven meters below the rest of the island, its dual stone staircases guarded by a bird shit-covered statue of King Henry IV on a horse.
The island has been occupied for thousands of years and is regarded as the birthplace of Paris, but these days it's probably most famous for being the home of the Notre-Dame de Paris — the ornate Catholic cathedral that suffered a devastating fire on Monday.
On our first full day in Paris last fall, Keeley and I left our hotel in Pigalle (a few minutes by foot from the Moulin Rouge) and marched south toward the Seine. A few things stand out from that 4.5-kilometer walk.
We took a strategic detour to La Cave à Bulles (The Bubble Cellar) to snag some French beers.
We devoured pain au chocolat with reckless abandon.
We admired the iconic locks that cling to the railings and bridges above the Seine, symbols of love sealed to the City of Love, as riverboats full of tourists waved from below.
And then, at the edge of Île Saint-Louis, we caught our first glimpse of Notre-Dame de Paris.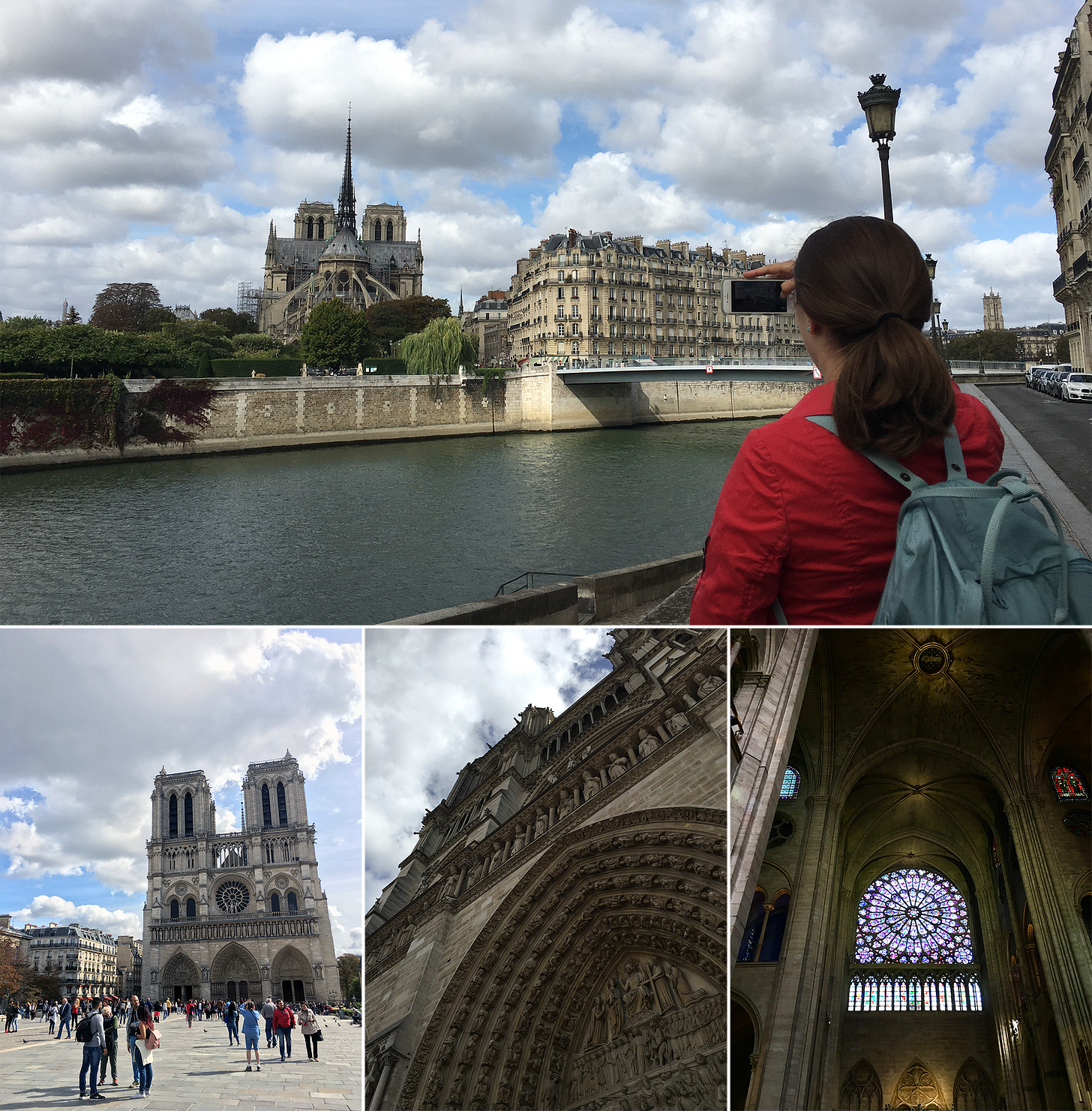 I took pictures. Keeley took pictures. I took pictures of Keeley taking pictures. We stood and breathed it in and I wish we had breathed in deeper.
As we walked across the bridge and approached our Sacred Lady, I pointed and gasped and lost my tourist's shame. Fans of architecture will tell you that I was awestruck by the stone flying buttresses that support the walls of the nave and chancel; but all I could think of was that a Sisyphean crab had fossilized after holding up the most beautiful cathedral I could imagine.
I bought a keychain. We went inside.
You've seen the images of the burned-out Notre Dame by now. You've probably seen the side-by-side of the stained glass rose windows and the gaspingly tall ceilings and the rows and rows of wooden pews, before and after the fire did its best to destroy them all. Maybe you've seen them with your own eyes.
Shortly after, we ordered crepes from a window and walked down the steps behind splattered Henry IV to the Square du Vert-Galant. I disobeyed the signs telling me not to drink — it's France! They're more liberal about public drinking! — and pulled the warm Etoile du Nord from my backpack. My new keychain bottle opener cracked open the cap with a hiss that echoed across the empty park. We shared the beer straight from the bottle, hiding it in my backpack between sips.
My attention only broke away when I noticed the horse chestnuts poking at our feet.
"I grew up with these all over the place!" I half-yelled, thinking about my Grandma Evelyn's house, my four-cheese crepe flopping as I kicked the spiked nuts around in the shade.
Keeley smiled at me from the park bench.
I looked up the recipe of that beer later on. It's made of French grain, English hops and yeast that has come to be associated with a Belgian flavor. It comes together in a bitter but refreshing package that carries a hint of citrus and flowers. To me, it just tasted like happiness.
I've been working on a homebrew clone of Etoile du Nord. I suspect, no matter how well it turns out, it will never taste as good as it did that day.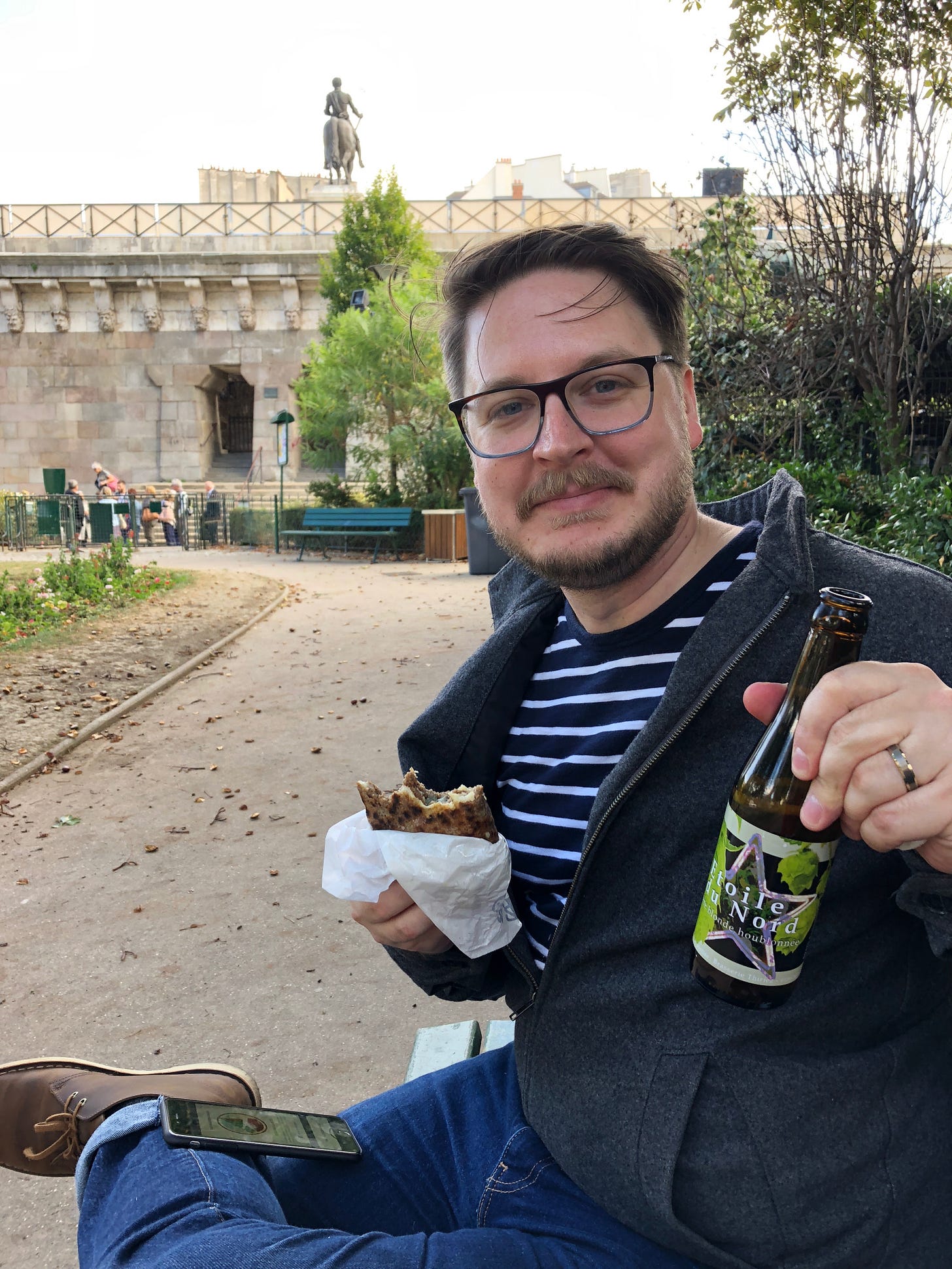 ***
A good Thiriez beer to pair with fleeting moments: Extra, which is the same as Etoile du Nord but rebranded for an American audience. It's hard to find, but not impossible.
***
Want more like this, delivered right to your inbox? Sign up here. If you like bad pictures of good drinks, follow my beer-specific Instagram account.